You can listen to and download
"Boomer's Last Stand" HERE.
Order your CD HERE.
Boomer's Last Stand is available at Spotify
(click HERE) as well as Apple Music, Amazon Music, and all other online streaming/download sources.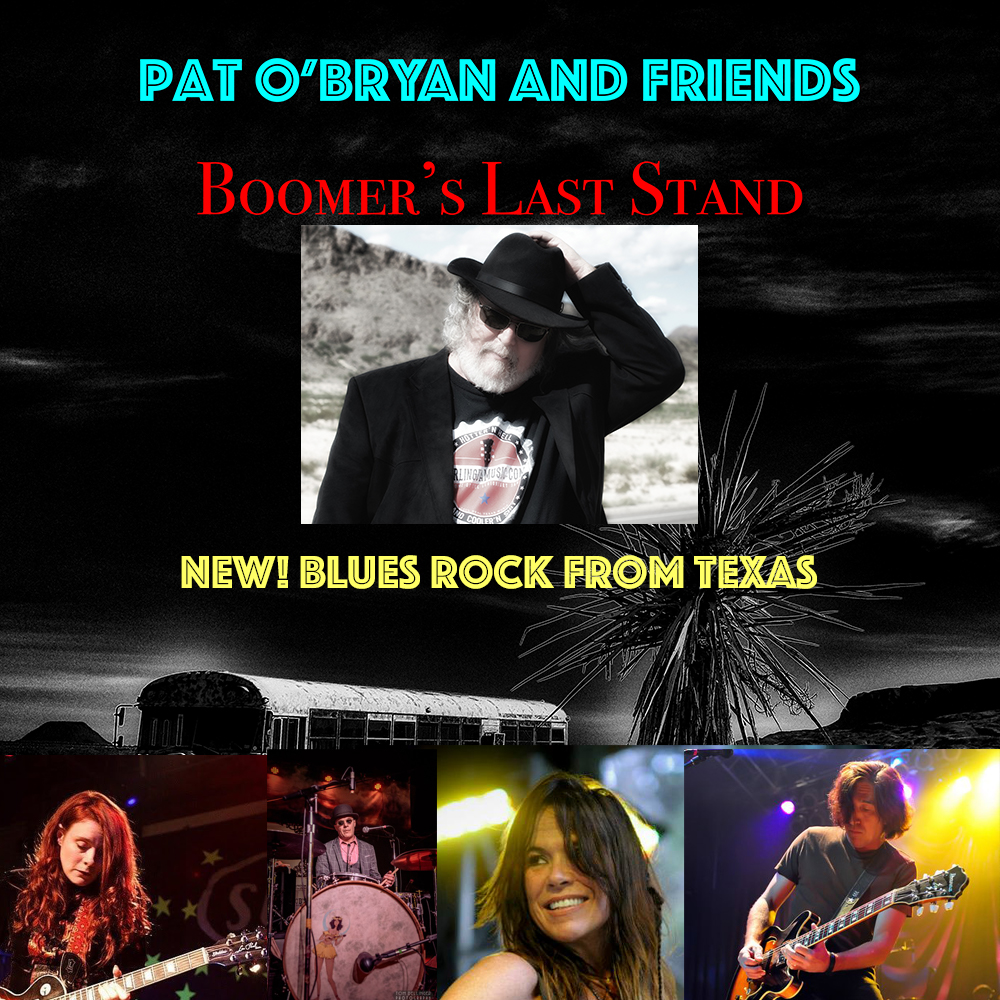 Thank You Blues Blast Magazine!

Read it online at Blues Blast HERE.
Pat O'Bryan and Friends – Boomer's Last Stand | Album Review
What does it mean to be a "success" in music? It is easy to see the range of popular musicians from superstars like Taylor Swift or Beyonce to more niche acts like Old Crow Medicine Show or Tedeschi Trucks Band as successes. In reality all of these popular musicians are in the 1%. There are millions of successful blue-collar/working-class musicians worldwide who make their living off of their art; grinding it out and shopping at big box retail stores like the rest of us. We Blues lovers know this. Our favorite musicians often have personal relationships with us because in some cases they are our neighbors.
Pat O'Bryan is a great example of one of these gifted musicians who has lived a life of art and creation with some international success, but, with minimal name recognition. A tried and true Texan, O'Bryan's twisted musical journey has led him through early experiments in electronic music at UT (University of Texas, ya'll), Country Western Swing bands, hard core touring barrelhouse Blues and the Austin Blues explosion of the 70's and 80's. Using the pandemic as an opportunity to slow down off the grid in East Texas, O'Bryan, a record producer of countless local projects, has released his mostly self recorded and all original pandemic record Boomer's Last Stand.
Staying socially distant the few collaborations on this record were all done remotely. Austin Blues guitar royalty Carolyn Wonderland sent in a searing lead part for one track, the highly irreverent "She Looks Just Like You." Italian drummer extraordinaire Beppe Facchetti sent his percussive music across the Atlantic adding funk and depth to all 10 tracks. Smoky singer Elizabeth Lee offers backgrounds on a couple tracks and solo lead on the epic "Satisfied" which also features lead guitar work from Lary Chaney. Chase Peeler sent saxophone down from Colorado and Allan McGinty recorded bass for one track in a different part of Texas.
Even though Boomer's Last Stand is credited as "and Friends," this last stand is the Pat O'Bryan show. Not a beautiful singer, O'Bryan growls out his lead vocals but doesn't overreach, a mistake made too often by limited singers, ensuring his vocals are always engaging. O'Bryan's real talent comes in his instrumental and production prowess. Layered sweeps of organ, piano, drum programming, guitars of all type and tone create a well realized vision of popular, slightly Blues colored, music. The dramatic ballad "Burn It Down" is a great example. A medium-slow classic soul ballad, O'Bryan rasps and pleads in perfect sync with his lush organ and piano counter point. A searing yet tasty lead guitar line slinks through the open spaces and creates a deeply satisfying performance.
Pat O'Bryan is clearly a Blues artist. He was a member of the Monday night house band at Antone's, toured with W.C. Clark all through the West, opened for Johnny Winter and ZZ Top and worked with Albert Collins. But, O'Bryan was also bit early on by the innovations of electronic instruments and the composers who used them. O'Bryan indulges a wide pallet of styles from 80's Hair Band Rock to faux-Reggae to gut bucket Blues to Roots Rock burners. These diverse interests come to bear in some of the more rock informed tracks. Album opener "Tell Me the Truth" is a hair metal workout. The hopped up zoom of "Nikki Put the Knife Down" is a cross of Morphine and the Stooges. These diverse turns make for an interesting ride that shows off what this multifaceted artist can do. Thank goodness Pat O'Bryan is a musical success.