About Pat O'Bryan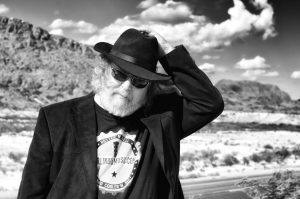 Now: I write music in many styles and record this music in my studio which is on the 2nd floor of my off the grid cabin in the desert just North of Terlingua, Texas. I play piano, guitar, dobro and bass well enough to make a living at it, and enough mandolin to fake it. I'm very proficient at programming synthesizers. I don't have one of those magic voices that stop you in your tracks, but I've heard my voice on the radio often enough to get used to it. It's too pretty for blues and too bluesy for pop, but I get by.
My YouTube channel has about 4,400,000 views and is composed of my performances or the performances of artists I produced.
I'm currently represented by several top music libraries on a non-exclusive basis and I'm always ready to embrace new opportunities.
My Studio: 27″ iMac and 13″ MacBook Air, Apple Logic Pro X, a box of microphones ranging from Neuman, AT, and Sennheiser to MXL clone mics.  Outboard compressors, EQ, and pre-amps. JBL monitors. AKG headphones.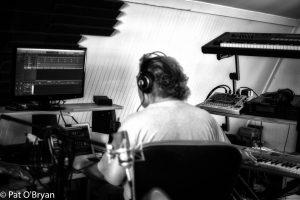 Keyboards: Korg Karma, Korg Triton, Kurzweil PC-3, a couple of vintage analog boxes including a Korg SH-32, Roland JV-2080 and a real hip ancient rack-mount Yamaha sound box with some amazing pads. Accordion. Melodica.
Sound/Sample Libraries – Native Instruments Kontakt, Vienna Strings, Kirk Hunter Diamond and Platinum strings, Retro Machines Mk2, OBXD Oberheim, Reaktor 6, Project Exodus, Project Pegasus, and others.
Stringed Instruments: Martin 6-string acoustic, Seagull 12-string acoustic, DanElectro Baritone electric, Devil's Backbone guitars Strat, Collings 290, Epiphone Les Paul with Gibson p/ups, Republic Tri-Cone resonator, Gold Tone Dobro, Deanbro with Hawaiian engraving (it matters), custom bass guitar, Lindert Strat, Fender mandolin, and a few others.  A purple VVT hand-made 50-watt Dumble clone, several other tube and modeling amps, red POD amp modeler…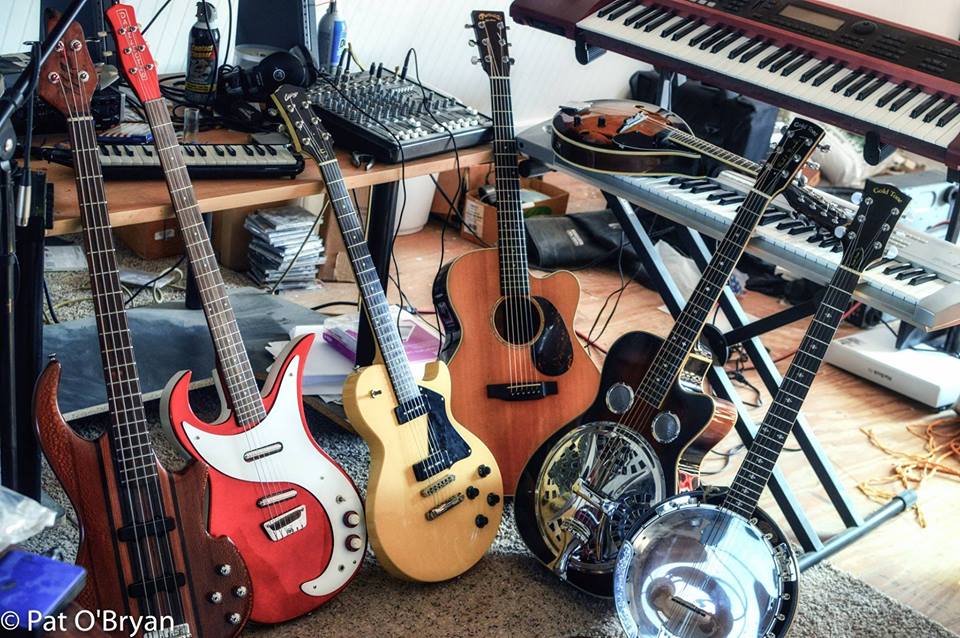 Then: I started picking out tunes on the piano when I was eight and got my first guitar when I was ten. It's been non-stop since then.
I started playing bars with local bands when I was fifteen and by the time I was sixteen I was in a band with some older guys. I played a '72 Fender Telecaster, a black-face Vibrolux, and a Farfisa Combo Campact organ. I wish I still had those.
We had a white van and matching gray sparkle Kustom tuck and roll amps. We played bars in Houston and Pasadena, including dives near the ship channel where I got bit by a Greek Sailor's monkey. I dropped out of high school and headed for the big time.
After a brief stint as a street hippie (by then, I had a Hammond Organ, Fender Rhodes piano, no car and occasionally no home), I snuck into North Texas State University as a music composition major based on a piano audition and decent S.A.T. scores.
That's where I discovered electronic music and, more importantly, the electronic music laboratory. N.T.S.U. had the third (I was told) modular Moog synth, a couple of tape recorders, and a door that locked.
I bounced between that room and the music library, where the interns would cue up records that I could listen to over headphones… early Pandora… that's where I discovered Stockhausen, early electronic music, the Fluxus group, John Cage, Subotnik (I later played a concert with him in Austin)… I'd take these amazing, revolutionary ideas (everything is music, melody is a much more interesting concept than I'd been told previously, virtuosity is not necessary or even preferable…) I also discovered Lao Tsu, Chuang Tsu, Alan Watts, Gary Snyder… these things are all connected.
The whole time I was having my mind blown with modern music I was playing with a Western Swing band around Fort Worth, Dallas, Stephenville… heavy hitters who could play Bob Wills music note for note and believed every note they played.
I also co-owned and co-created "Laser Magic," the first laser light show outside of California. We had an ongoing show at the Burke-Baker Planetarium in Fort Worth.
After four years of this, I sent a demo tape to the head of the electronic music department at the University of Texas and was offered a spot in the grad program, making me possibly the only grad student at U.T. with neither a college or high school diploma.
The U.T. lab had a few different synths and a huge reverb drenched recording space, and I had a blast making noises, making feedback and re-recording that, playing with found sounds…
I also got a gig writing jingles for a local recording studio and joined a local rock band that was managed by Bill Hamm's Lone Wolf Productions. We were pretty good, and started getting opening slots: Heart, Johnny Winter, ZZ Top (of course)… After a couple of years at U.T. I had to make a choice: was I going to do the academic composer/professor thing or be a musician?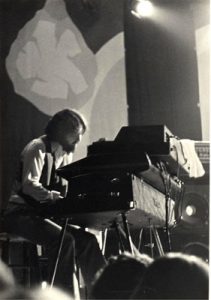 The chance for an extended tour opening for Cheap Trick sorted that one out for me and I've never looked back.
The local band got signed by a major label but I didn't. I just couldn't sign Bill Hamm's management contract. No f'n way. Ask Eric Johnson about that contract.
In the background, I was still playing with country cover bands to pay the bills. Waiting tables. Working day labor. I played lead guitar with Hank Thompson on a flatbed truck at a rodeo in Snook Texas, VFW halls and honky tonks all over Texas, and did some session work in Austin.
One night I was out drinking at the Continental Club and W.C. Clark was playing. The band was HOT, but to be honest, his keyboard player kinda sucked, and I mentioned this to W.C.  He suggested I sit in and do better if I could.
I did, and he fired his keyboard player and hired me that night. That's how they do it in East Austin.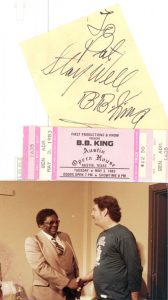 Back to school, but this time it was a different school. Smoky East Austin bars, hookers and pimps at the BBQ place on 7th street, junkie bass player, scary chicks who really enjoyed talking dirty to the young white kid…
And the music. That was the best band I'd ever played in. On a good night, that was the best band I've ever heard. Frosty on drums, Skipper on Bass, W.C., Breeno on horns (which his blonde girlfriend would bring in from the car, assemble, and hand to him. She never said a word).  The East Side horns. Whether we were opening for B.B. King at the Austin Opry House or playing the Austin Outhouse, it was about the music and I was, by far, the weakest link – which is a great place to be.
Not only did I learn from the band, I learned from the guys and gals who sat in. Sitting at my keyboards a foot away from Stevie Ray Vaughan while he played "Texas Flood" in Antones, jamming with Hubert Sumlin and the other Chicago players who came through Antone's and were ready to sit in after a visit with Clifford…  the local all-stars: Doug Sahm, the Fabulous T-Birds, Angela Strehli, Tommy Shannon, Denny Freeman, Derek O'Brien, Reese and Riley on keys… I did my time in the Antone's "Monday Night" house band.
Then, it was time to get away from the temptations of Austin.
I spent the early 90's running a recording studio in Houston and honing my vocal and guitar chops. Producing and playing on hundreds of CDs with the likes of Peppermint Harris, Johnny Clyde Copeland, Albert Collins, Joey Long, Johnny Winter… playing bass with Carolyn Wonderland and the Hightailers… either under my own name or my nom de blues, "Sideways Sumlin."  I recorded "Sideways Sumlin's Greatest Hits Volume 2" in 1996 and am constantly surprised at how well ol' Sideways' songs do in the blues world- especially in Europe and Japan.
Just now, I was searching Amazon for CD covers to post here and discovered that somebody is repackaging those old tracks- and I'm on a new compilation CD with Janis Joplin, Johnny Winter, and some others…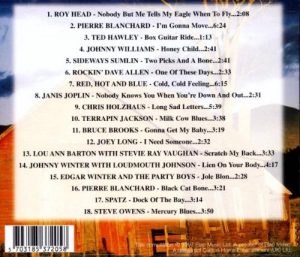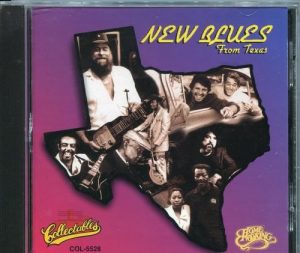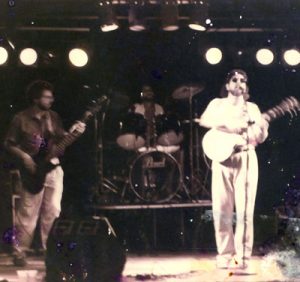 After a serious dose of the blues, I moved with my son to Wimberley, Texas where I set up my recording gear and grabbed some neighbors- Stephen Bruton, David Grissom, Jules Alexander from The Association, Keith Carper from Hal Ketchum and Kris Kristofferson's band, Andres Cantisani, and some others- and made my first CD under my own name, "…of Trains and Angels."
It did well for an indie release, and led to quite a bit of touring around Texas.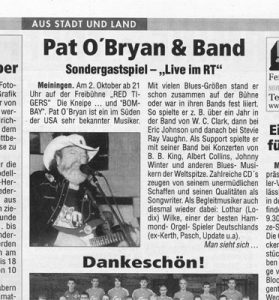 About a year later, I was surfing the 'net and discovered that a German label had "appropriated" one of my songs and put it on a European compilation CD with Willie Nelson and a few other big country names… apparently, I was now a "country" artist.
I sued them.
After the dust settled, the label decided they'd rather give me a 5-CD deal than get sued. Around the same time I met and started playing some gigs in the Hill Country with Elizabeth Lee who had been touring in Germany for quite a while. She introduced me to her agent, and I found myself with a German record deal and a German agent.
I spent the next few years playing in Europe. The German label was terrible at paying royalties but they had great distribution. One day I walked into the HMV CD store in London and discovered that they not only had my latest CD, they were carrying my entire catalog.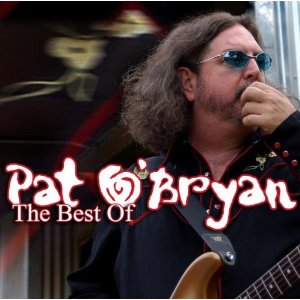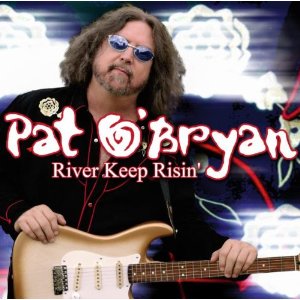 By 2005, it was time to come in off the road.
A chance meeting with a famous motivational speaker led to a very cushy gig writing New Age music for motivational CDs and videos, and I spent the next few years in Wimberley, Texas doing that, writing a few books, and raising my son.
In 2013, I moved to my off the grid cabin in the desert just North of Terlingua, Texas and took some time off to explore the Big Bend of Texas, Northern Mexico, and study with the philosophers on the porch in Terlingua. I also produced a few CDs for some local songwriters which turned out nicely. On those CDs, I played everything but fiddle on one and Sax on the other.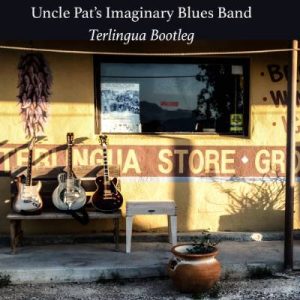 In 2015, I recorded "Uncle Pat's Imaginary Blues Band- the Terlingua Bootlegs," on which I played everything but Sax. It's done real well in Belgium, France and Holland. I was briefly tempted to tour behind it, but, no.
A chance meeting with a refugee from network reality shows who was also taking a sabbatical in Terlingua led me to realize that I was uniquely qualified to write music for TV and video.
And so a new adventure begins.
I have no idea if I can compete with writers in L.A. from Terlingua. Although I'd love to share a bottle of wine and stories with Hans Zimmer, I'm shooting at a different target than he is. I think music libraries are the way for me to go.
Can it be done from the desert?
Let's find out.